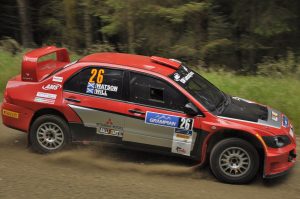 Autocross is Motor Racing on a grass or stubble fields for two wheel drive cars, sports cars and purpose built specials. In the Uk cars race in groups of two, three and four for approximately three laps. Four wheel Drive cars are also permitted.
The sport began in the 1960's and the British Trials and Rally Drivers Association ran the first Nationwide Championship. This was followed by the 'Players No6' National Championship which discovered Barry Lee (World Hot Rod Champion), John Taylor (European Rallycross Champion) Keith Ripp (British Rallycross Champion) and many a top rally driver.
cars The slippery and varying surfaces provide invaluable car control, experience with plenty of room to explore the limits of car and driver.
As with Autotesters, Autocross drivers learn car control without the risks of cost incurred in rallying. The speeds can reach 80 mph or more on a dry track, so it is a good training ground for special stage rallying etc.
Each race is against the clock to determine the winners, two drivers can also share a car and each competitor usually has five races in a day including practice.
With entry fees at about £55 and the cost sharing a possibility it is a very affordable form of Motorsport.
Classes cater for all types of cars, an economy class caters for unmodified cars without limited slip differentials.
Modified cars are split at 1400cc and 2100cc and specials are usually hand built spaceframe machines or cut-down saloons, too much power can be a disadvantage on slippery surfaces so 'knobbly tyres' are the most important modification. rally
championship Cost range from £500 for an economy car to £7000 for a fully prepared Subaru Corsa etc. A good competitive car can be purchased for around £2000. Always consider traction an important factor when choosing a car.
Events take place from April to October mostly in Northumberland (Causey Park) but we have two event's a year in the Borders.
Border Ecosse Car Club stage an eleven round Border Autocross Championship kindly sponsored by Border High Performance, Norham and Des Campbell, Motor Mechanic, Chartethall.
This popular series has been well supported since it first started in 1987 some of the past winners have been Kenny Lindsay, Bill Falconer, Michael Boak, Peter Cobb, Mattew Leitch.
The results are determined by a competitor's time, each car is timed in each heat, then their best two times are added together to identify there class position.
The fastest 16 go through to the finals 'D final' 'C final' 'B final' and 'A final' and the fastest of the 16 is the winner. Competitors in the Junior class may not take part in the finals.
CLASSES
Junior Class – (14 to 17 years) Restricted up to 1400cc with NO more than 8valves
Class A1 – Standard production unmodified engine in its original position, NO more than 1600cc
Class A2 – Standard production unmodified engine in its original position, OVER 1600cc
Class B1 – Standard production unmodified engine in its original position, no more than 1400cc
Class B2 – Engines up to 1400cc that don't comply with Class B1 regulations
Class C – Engine size 1404cc to 1650cc
Class D1 – Engine size 1651cc to 2000cc
Class D2 – Engine size 2001cc and above
Class E1 – All four wheel drive Cars.
Class E2 – All specials and any motorcycle engine vehicles
Class G – Rally and road going vehicle that comply with the road traffic act.